Apr 14 2014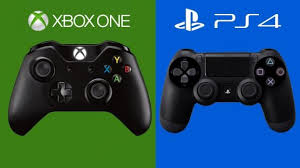 Am o nedumerire in ultima perioada, daca ar fi sa aleg, care consola credeți ca e mai buna, Xbox One sau PS4?
La fel ca in The Big Bang Theory, sezonul 7 ep. 19 parca, nu ma pot decide. Am încercat recent un Xbox One; foarte tare la prima vedere!
Ambele au avantaje si dezavantaje, sunt o grămada de site-uri care fac comparatii intre ele, dar cred ca pana la urma e o decizie subiectiva. Fifa merge pe ambele la fel!
Voi cei ce dețineți una sau cealaltă, ce părere aveți?
Update 26.04.2014:
Si castigatorul a fost… XBox One! Deocamdată sunt extrem de mulțumit de el. Astept mai mulți prieteni, pentru ca nu se compara FIFA in rețea cu nimic altceva! Iti amintești Go? Rocchi!!!
Update 11.05.2014:
Chiar daca inca mai nevoie de antrenament la FIFA (va arat eu Stef si Ovi!), sunt pe deplin multumit si de celelalte jocuri: Need for Speed Rivals, Son of Rome, Battleship. Call of duty e pe drum! Nu le cumparati de pe xbox, eu le-am gasit pe ebay si la sub jumatate din pret (23$ in loc de 50$). De retinut ca trebuie sa aveti cont Xbox Live Gold pentru a putea juca in retea. La ora actuala acesta costa app. 60 USD pe an.